Our Services
Aircraft Systems has always been committed to providing our customers with the highest quality services that will continually meet and exceed their expectations. Our highly skilled and dedicated personnel enable us to provide our customers with superior quality, fast turn times and competitive pricing.
Since 1980, Aircraft Systems has been providing safe, reliable and cost effective overhauls, repairs and service to the Aviation Community. Aircraft Systems offers a wide range of services to include all Boeing Heritage and New Generation fleet types B707 through B777, DC8, DC9, MD8O, DC1O, MD11, Lockheed L1011, Canadian Regional Jet CRJ200 and Airbus Heritage fleet types A300 through A320.
Our extensive capabilities include: Hydraulics, Electro-Hydraulic, Electronics, Pneumatics, Mechanical, Electro Mechanical and Landing gear.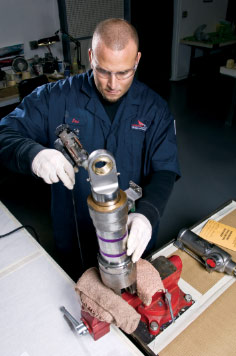 Aircraft Systems maintains components that fit the following aircraft:
| | |
| --- | --- |
| Boeing Series | 707, 727, 737, 747, 757, 767, 777 |
| Douglas Series | DC8, DC9, DC10, MD80, MD11 |
| Lockheed | L1011 |
| Canadian Regional Jet | CRJ200 |
| Airbus | A300, A310, A318, A 319, A320, A330,A340, A380 |
For further details, search our capabilities database.
---
Specializing in the following Components and Accessories
Hydraulic Accessories
Retract Actuators, Accumulators, Door Actuators, Shuttle Valves, Swivels, Steering Actuators, Steering Metering Valves, Bungee Actuators, Truck Beam Position Actuators, Snubbers, Flap Control Valves, Flap Cylinders, Sequence Valves, Brake Deboosters, Pumps, Selector Valves, Slat Actuators, Filters, and Thrust Reverse Actuators.
Electro Hydraulic Accessories
Power Control Units, Anti-Skid Manifolds, and Servo Valves.
Landing Gear Components
Landing Gears, Uplocks, Side Braces, Drag Links, Torque Links, Bungees, and Lock Links.
Mechanical & Electro-Mechanical Accessories
Flap Transmissions, Gearboxes, Angle Gearboxes, Slat Actuators, Flight Control Dampers, Stabilizer Trim Motors, Stabilizer Trim Jack Screws, Cowl Jackscrews, Cargo Door Actuators, Linear Actuators, Rotary Actuators, Cooling Fans, Outflow Valves, Torque Shafts, Shut-Off Valves, Fuel Pumps, Pressure Sensing Units, Flap Reversion Units, Lock Links, and Thrust Reverse Actuators.
Electronic Accessories
Annunciator Panels, Wheel Speed Transducers, Landing Lights, Recognition Lights, APU Fuel Pumps, Logic Controllers, Landing Gear Sequence Boxes, Power Supplies, and Spoiler Controls.
Pneumatic Accessories
Flapper Valves, Shut-Off Valves, Check Valves, Anti-lce Valves, Thrust Reverse Actuators, Pneumatic Actuators, and Bleed Valves.
Airframe Components
Flap Carriage Assemblies, Engine Mounts, and Flap Links.
---
AOG Services
Airlines only earn money when their aircrafts are in the air. If an aircraft has to stay on the ground (AOG) for technical reasons, let Aircraft Systems help you in the shortest possible time.
We offer a 24/7 AOG service. Contact us for more details.