Company Overview
Mission Statement
Aircraft Systems offers the advantages of industry expertise and global reach. Our team is comprised of individuals who possess an in-depth understanding of the aviation industry along with the discipline to keep current on the ever-changing trends and regulations in our industry.
At Aircraft Systems we dedicate ourselves not only to the attention of our customer's everyday needs. It is our responsibility to build trust and teamwork while globally promoting sound ideas, and continuing to professionally maintain enabled solutions, so that we may assertively initiate performance based on expertise.
About Our Company
Aircraft Systems has been proudly serving the aviation industry for the past 30 years. Aircraft Systems is a minority owned and operated small business which has been dedicated to providing the highest degree of quality repairs and overhauls.
The company opened its doors for business in 1980 with one goal in mind: to become one of the most dependable, highly regarded resources for aircraft services. Throughout the decades we have maintained that position with our customer base.
We are an unlimited Accessory Class I, II, and III, Limited Landing Gear, and Limited Airframe Rated 145 FAA & EASA Accepted Repair Station.
Aircraft Systems is housed in a solid concrete 14,000 sq/ft. building, centrally located just 7 miles from Miami International Airport. This close proximity to one of the leading passenger and freight airports of the World has allowed us to provide our customers with superior AOG service.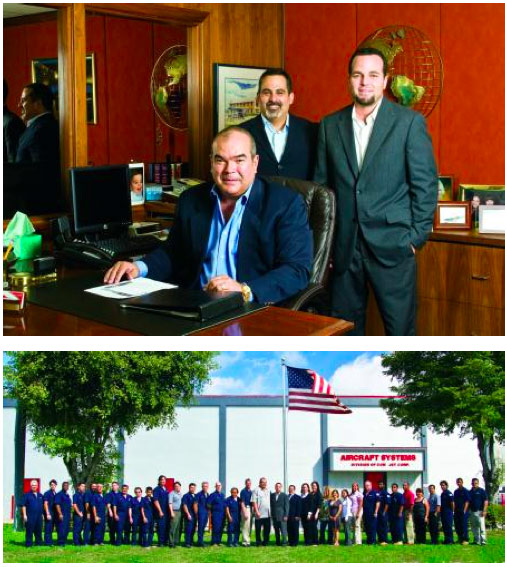 ---
Organizational Structure
President Michael A. Foreman, Sr.
Vice President Michael A. Foreman, Jr.
Vice President of Quality Scott Rich
Vice President of Marketing& Sales Gus Reina
Vice President of Procurement Michelle Foreman
---
Affiliations

---
Production Staff
| | |
| --- | --- |
| Number of Employees | Job Title |
| 3 | Q.C./Assurance |
| 43 | Mechanics/Machinists |
*Completed FAA Part 147 School FCC General Radiotelephone License
Office Staff
| | |
| --- | --- |
| Number of Employees | Department |
| 2 | Accounting/Administration/I.T. |
| 5 | Customer Support/Marketing/Sales |
| 5 | Purchasing |
| 5 | Stockroom, Shipping and Receiving |
---
Certifications
(Download or view as PDF)