« back to Our Services
Avtron Hydraulic Test Stand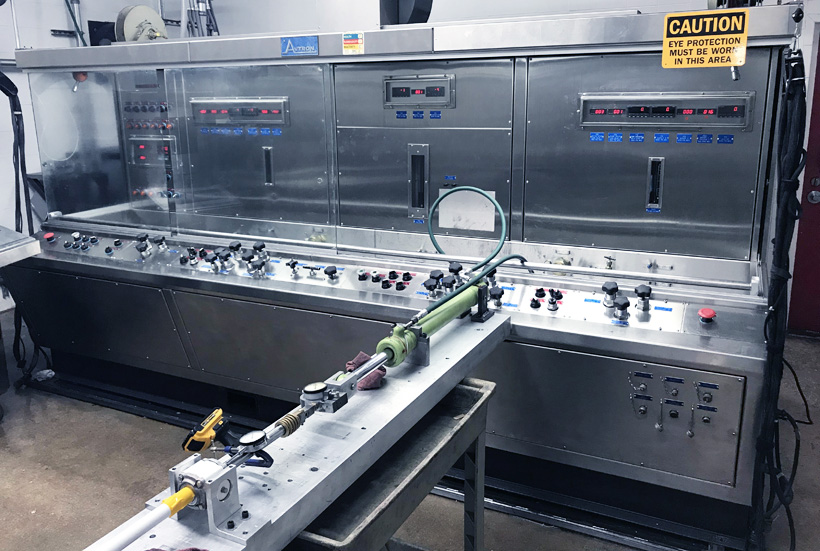 Aircraft Systems has invested in this state of the art test stand to ensure the highest degree of efficiency and quality for our customers. This hydraulic test stand has allowed us to increase our capabilities, handle larger volume of repair and overhauls and minimize our lead -time. Aircraft Systems uses this stand to test hydraulic units such as actuators, pumps, rotary pumps, engine driven hydraulic pumps, power control units, manifolds, anti -skids, servos, valves, brake systems, load cylinders, engine driven motors. This test stand has the capability to test older and newer generation aircraft. Listed below are some of the specifications of our state of the art hydraulic test stand:
Pump stand 150 HP motor capable 0 to 10,000 rpm.
Flow capacities of .5 to 90 GPM outlet.
0-20 GPM @ 2,000 psi case circuit.
175-gallon reservoir with multi-filtration systems with various micron ratings.
2 separate test stations capable of 0 to 50 GPM of flow, 50 GPM @3,000 psi and 30 GPM @5,000 psi. Max operating pressure of 10,000 psi.
Hydrostatic test station capable of 10,000 psi.
Electric pump stand capable of 3 phase 60 to 400 Hz and 200 amps delivering 090 GPM @ various pressures.
Complete stand operated by two Data Acquisition systems with self-automation for cycling and pressure controls. Capable of operating all pressures, speed, torque and flow controls from one screen to the other.
Boost pump rated @ 70 GPM @ 500 psi.
Heat exchanger capable of removing 250,000 BTUdIr.